Frederick Seltzer, D.D.S.,F.A.G.D.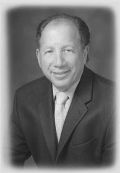 Dr. Seltzer performs general and cosmetic dentistry, periodontal therapy, implant restorative dentistry and endodontic therapy. At Dr. Seltzer's Office, the latest in dental technology is available. Cosmetically, he also offers high tech bleaching. The ViziLitePlus, a patented exam system which allows for the earliest possible oral cancer detection available today and is approved by the FDA.
"I like to be accommodating; I want people to feel at home, like they're talking to a friend and not just a health care professional."
Dr. Seltzer explains his business philosophy, "I like to stay on the leading edge of technology in diagnostic technique, prevention and cosmetics. Featuring technological innovations such as digital x-ray and ViziLite Plus, Dr. Seltzer makes the oral health of his patients his utmost concern. "I like to be accommodating. Our staff is warm and friendly; we remember to give extra special care to those that are afraid of dental visits - the cowards as I like to call them."
Guided by a family scheduling policy that allows parents to bring the entire family in one visit to minimize repeat trips, Dr. Seltzer explains, "Very often parents will call to make appointments for themselves and also their children." Since large families can often incur large dental costs, his office is cognizant of that and aside from the family scheduling policy, he also offers flexible payment plans including long term financing and up to 24 months interest free. Evening and Saturday hours are available to patients, as well.
The son of a dentist, Dr. Seltzer worked in his father's office when he was age 12. Growing up around dentistry, he felt a natural calling to the profession and set forth to make it his career. A fellow in the Academy of General Dentistry and a former instructor at the New York University College of Dentistry, he lives by the patented slogan, "You don't treat teeth, you treat people."
His commitment to people extends outside of the office as he is a two-time distinguished president of the Five Towns Kiwanis Club and a distinguished past Lieutenant Governor of the Long Island Southwest Division. It is his commitment to people that has garnered positive remarks from patients, who praise his "courtesy, sensitivity, comfort, timeliness, compassion, efficiency, and concern." IN a profession that struggles to make patients feel at ease, there's no better feeling than a dentist who provides comfort and ensures reliability and trust. That such man is Dr. Seltzer, stop by his office and witness the comfort firsthand.